AIGA Monsters is a personalized experience that allows users to see how they fit in with (or stand out from) other designers.

Based on data in the
2017 AIGA Design Census
, we designed an system that allows a user to generate a monster based on some of their personal information. Using their monster, the user can then start looking at how they might resemble or differ from any number of designers (also represented as monsters) along different data points. At the end, the user would also be able to get a postcard featuring their generated monster and individual data, as a way to continue the conversation.
We worked collaboratively to develop the concept and style. I helped establish aspects of the visual design including typography and color scheme, as well as create the print pieces and video.
You can view the live prototype here
.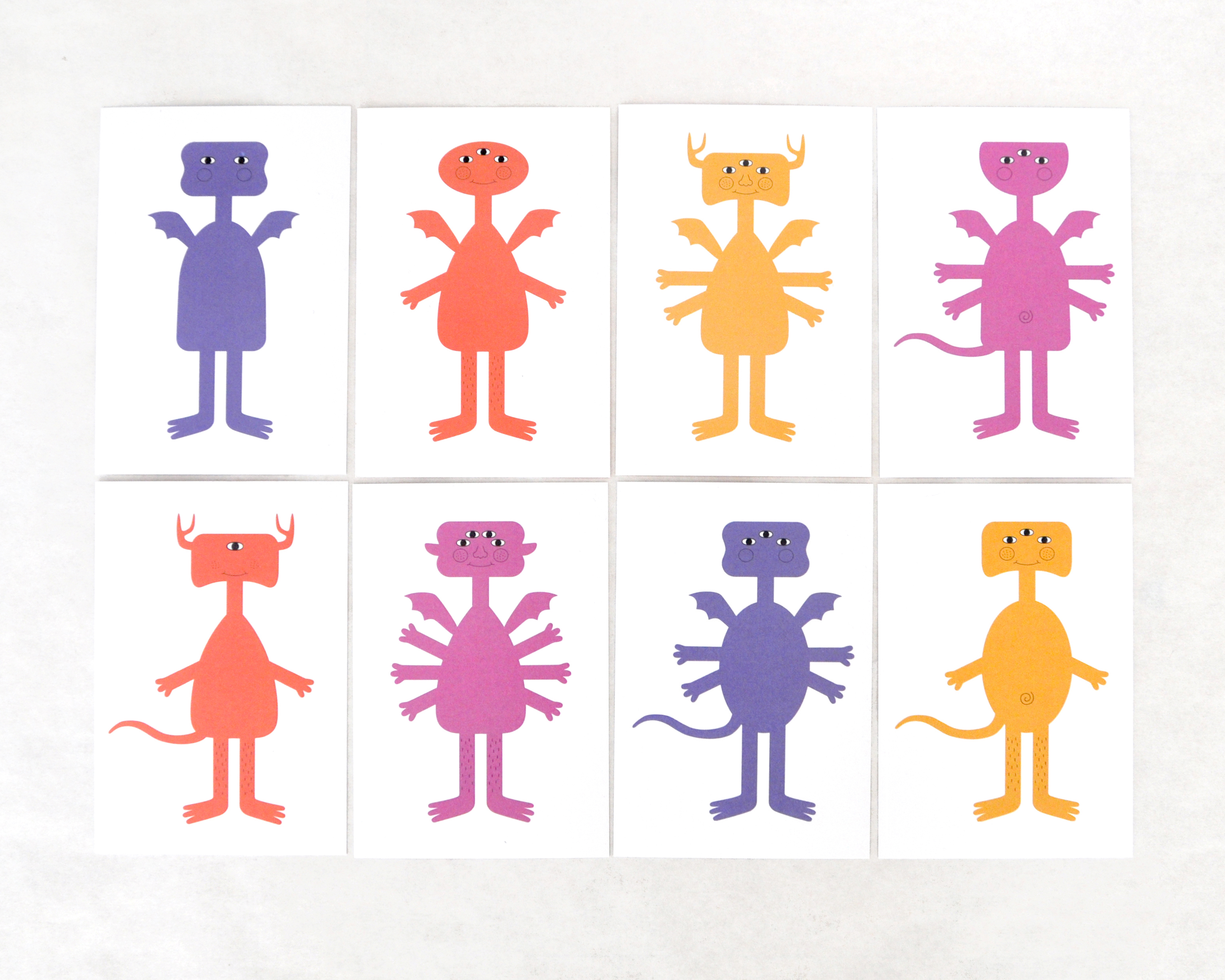 ---
looking at the data —
How can we meaningfully represent the census data?
The 2017 AIGA design census was intended to help gain an understanding of the current state of design, asking designers a variety of different questions about topics like demographics, their careers, and how they felt about design. Our initial challenge was to look through over 13,000 responses and find a way to translate such a huge dataset into something meaningful.
Since none of us had experience handling such large sets of data before, we spent a lot of time exploring how to organize the data. At one point, we decided to try to figure out how many designers in the census were like each of us. This started opening up interesting discussions around why there might be more or less of designers that fit certain criteria, and also gave us an entry point to better understand the other responses.

This exploration informed our goals for our data visualization. We wanted to:
— present the data in a way that would be friendly and engaging
— allow users to use their own information as a point of reference within the larger collection of data
---
exploration —
Based on this idea of personalization, we discussed the idea of generating unique forms that drew from each designer's responses, eventually arriving at the idea of unique generative monsters. We felt that monsters could immediately feel more personal than something like a landscape or abstract pattern, and reinforce the idea that all these data points are still individual people, regardless of similarities or differences.

---
narrowing the data —
We realized that with 43 questions per designer, we weren't going to be able to represent each response in our generative forms. We narrowed down the data we were going to represent for each designer to a set of questions:
How old are you?
What do you think of your current job?
How many hours do you work per week?
How long have you been working in design?
How much coffee do you drink?
What are the most critical issues facing design right now?
We chose these questions as they covered a variety of topics and helped provide a more well-rounded view of a designer as a person.
---
initial generative forms —
We then tried generating different forms based off of these questions, breaking down different features we could generate for our monsters and matching them to the questions. We wanted viewers to be able to have some idea of which questions generated which parts of the monster (for example, hours worked per week became number of arms), and we also needed to be sure that each variation on a feature was distinct enough so that different monsters could easily be compared.

More generally, we wanted to ensure that the designs were not stereotypically gendered (even if we weren't taking gender into consideration when generating the forms) and were relatable to a wide range of people. We also wanted to make sure there weren't any "good" or "bad" designs, as everyone would have their own particular context and story.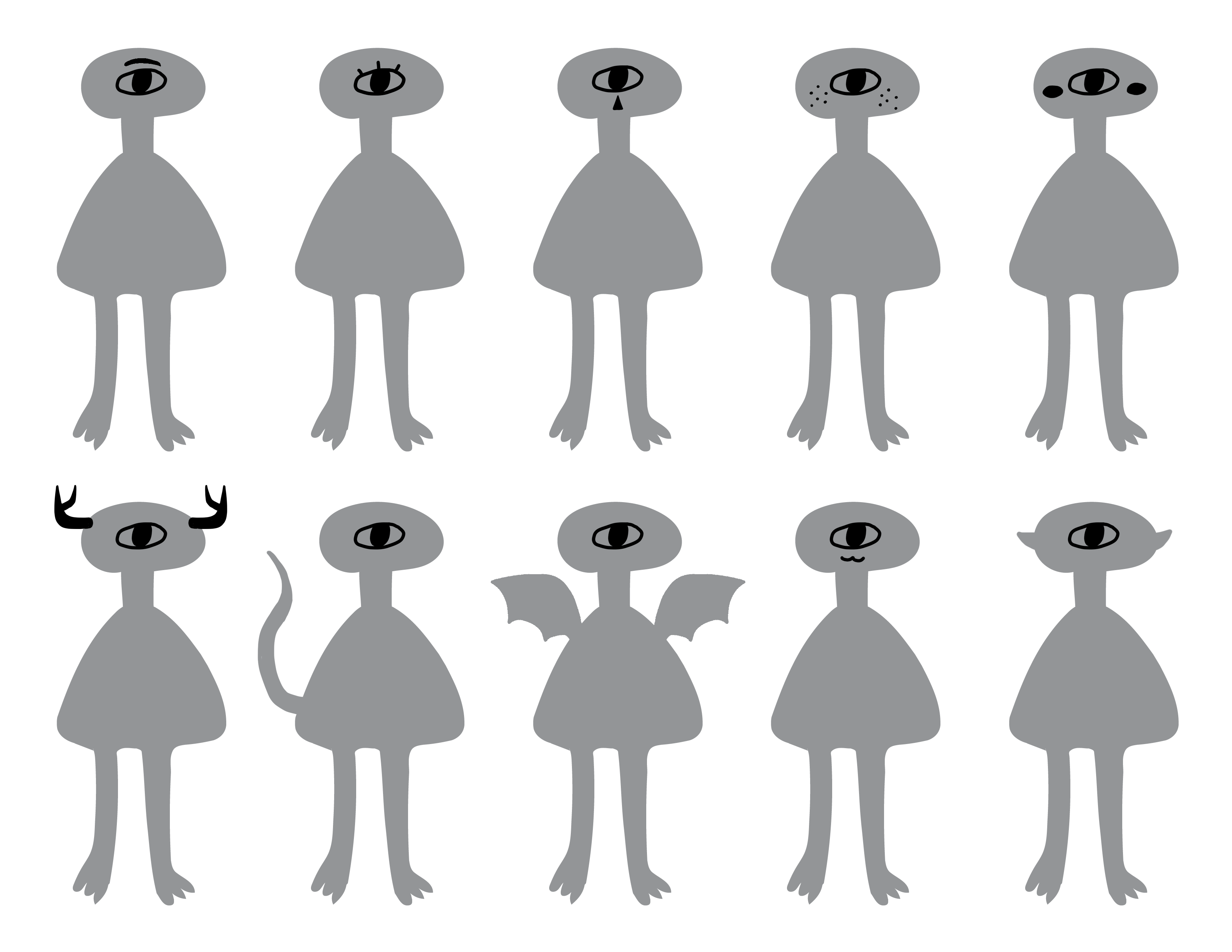 ---
final generative system —
We further developed our monster generating system & visual style based on feedback, resulting in this final ruleset.
---
digital experience —
Once we had our generative system more finalized, we began thinking about how users could interact with our system as a whole. We started by considering what actions we'd like a user to take & what information we'd want them to know, and then putting together an ideal user flow diagram for the website on which to base development.
---
postcards —
We wanted users to have some sort of takeaway after interacting with our site, and decided to create postcards based off of an individual's monster design & data. I worked with Rachel to create the postcards. The final design was a series of speech bubbles that could be dynamically placed depending on the individual designer's data, to correspond with the playfulness of the monsters.

---
video —
Finally, I worked with Katie to storyboard and create the video, working with the visual design we had established for the postcards and site. We wanted it to function as a short introduction to the website, and chose to focus primarily on how monster generation worked as well as visually highlight the comparison aspect of the project.

---
thoughts —
This project helped me start understand the importance of storytelling when working with data, especially in order to create something interesting for users. There are so many ways to approach large datasets, and how you frame your approach can drastically change the message and experience.

---